---
Opportunity knocks, but it has never been known to turn the knob and walk in."
English Proverb
The sellers finished selling and the dip buyers bought when they saw prices stop falling or when they were low enough to look good. So markets went back up. Somewhat. I'm finding that good ideas that can make me money NOW are getting somewhat harder to find or ideas that can make me money later seem to be hard to get comfortable with now. The markets seem to be getting narrow and somewhat herky jerky. So it's time to figure what to watch out for, just to be safe. It's hardly very complicated. I just look for the markets in general and my accounts in particular to start losing money in a sustained and accelerating manner so I can respond properly.
I'm back up to 30% plus return over 18 months in my 401a. I've got to be thinking of protecting that as much as I've got to be thinking of continuing to make money. Interest rates are still going up, political and economic strains are getting more pronounced and dangerous, inflation is starting to show through the barrier between energy and food and the core numbers, and seasonality is running against me. Time to visualize the possibility of stepping off the elevator because we may be near or approaching the top. Or maybe not. We might just be near a brief intermediate top. Or an extended period of consolidation. Or the end of the game as we know it, leading to death, darkness, and despair. Or not. The markets might explode up instead of down. What's important is that I am always one business day away from safety. When my concern about risk becomes overwhelming I can transfer everything to bonds or the GIC, except for the $5K that is stuck in the Balanced Pooled Fund (BPF). And only about half of that is in stocks, so I can get big time safe in a hurry. Should it only be a mild case of gas and not the end of time, I can get back in the Lord Abbett Funds and the Vanguard Fund whenever I want to. And the Calamos trading and market timing rules are not overly onerous. And even the American Funds funds can be reentered 31 days after an over $5K withdrawal occurs. Pretty kewl....
I met with some members of the Board of Trust a coupla weeks ago. The comment was made that maybe the way the 401a was set up was cramping my style. I jumped on that; Thirty percent up in 18 months is pretty uncrampy. The comment was made that it'd be nice if I could show how something like that could be done. Fair enough. Here's what I did.
I looked up our fund choices in the FundAlarm tables and the Morningstar.com website and used the Stockcharts.com website to evaluate the choices. The chart below is a close approximation to one that I used.... If the chart below is too small to see clearly, try clicking on it. It should be a live link...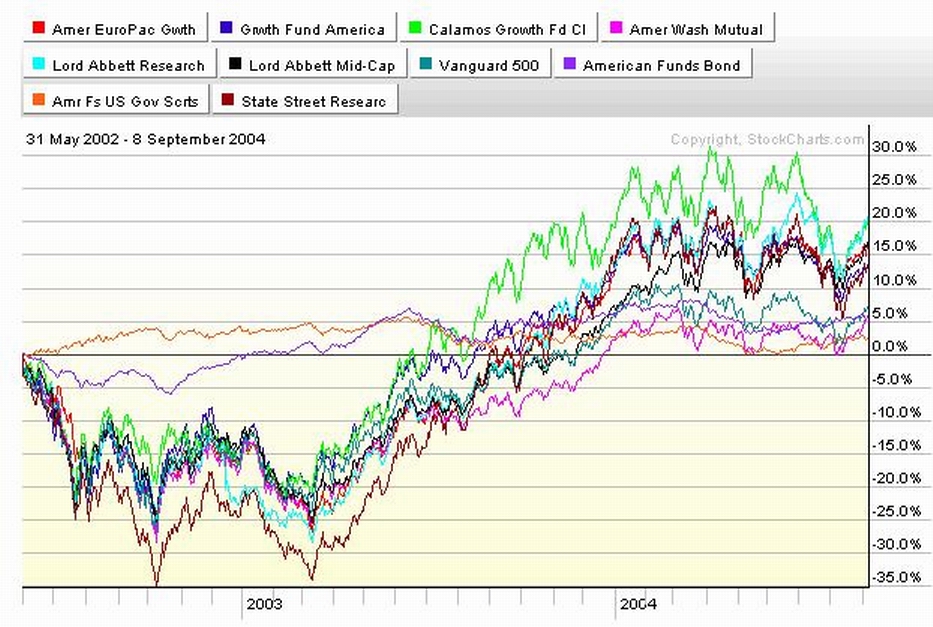 I decided against the bond funds for reasons I don't care to discuss at length here and now, but that I'll cover in more detail later. Suffice it to say that the time to be in bonds is when stocks are falling and the time to be out is when stocks are rising. Look at the chart. Enuf said. Given that the Vanguard S&P500 fund is a proxy for the market as a whole and a decent actively managed fund oughta be able to do better than that at least some of the time and hopefully most of the time, I rejected it. The washmutt fund wasn't doing nearly as well as the Vanguard Fund, so it got tossed. I had a bad experience with a poorly managed foreign stock fund years ago so I tossed the American Fund foreign stock fund. I put most of my available funds in the remaining choices, with some money in the GIC just because I wanted to be at least a little conservative. When the State Street/Blackrock Fund underperformed, I exited it. When I saw how well the American Fund foreign fund was doing, I put money there. I looked at my account every week to evaluate how I was doing and I shifted a small portion of my funds from time to time. I allocated those funds and my monthly contribution to where I was getting the best performance or where I thought I was a little light and it would be a good idea to even things out. When I was sure the trend was my friend, I pulled most of the money from the GIC and put it into into the best performing stock funds and got from there to here.
Of course the saying goes that 80% of the money is made over 20% of the time. When I did the above, interest rates were at all time lows for this era, oil was relatively cheap, Iraq was "mission accomplished", etc. I did some smart stuff at the right time and I got rewarded for it. That was then and this is now. But I think what I described is still a good thing to do. It's just that different circumstances may lead to different decisions and they WILL lead to different results. More to come