---
October: This is one of the peculiarly dangerous months to speculate in stocks in. The others are July, January, September, April, November, May, March, June, December, August and February."

-- Mark Twain

ChartZ And Table Zup!

Updated 5/5

So... Got my '07 pension statement and I'm distinctly unimpressed. I work across from too many participants in other locals and other trades who have a lot more to show for a lot less money contributed for a lot less years. But then you know that. Hell, check out the benefit rate earned in the mid 80's on this year's defined benefit statement. It was over $100 for a number of years. Also check out the rates earned in the 90's... especially 1996. In 1996 we earned $40 pension credit for a year's work. That's 1/3rd what we earned in 1984. And today we still earn a skosh less than what we earned in 1984. Is that totally reasonable? I'd have to see it to believe it....Wait, I DID see it. I just don't believe it
So what I gotta do is clear to me. I gotta work the money in my 401a extra hard 'cuz there was too much opportunity lost over too many years in both the defined benefit and the defined contribution not to...
Check dis out....CLICKONNIT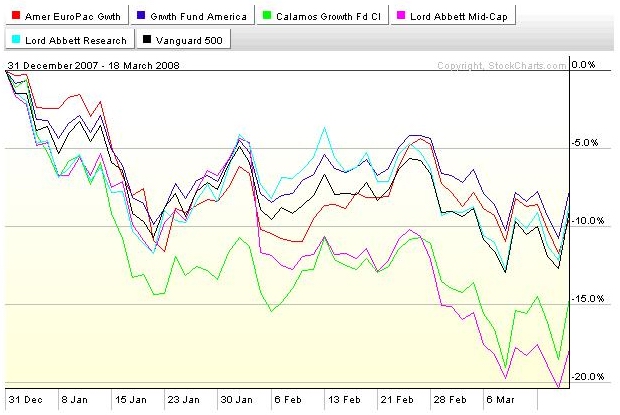 The first chart is first of the year to the most recent bottom. Below are posts explaining why and how we got there. BUT, something kinda unexpected happened after that. The Fed did not slash interest rates to the bone, cratering the dollar, and setting up the next bubble. Instead, they cut interest rates just about as much as the currency markets could handle and then started exchanging treasuries for toxic paper from everyone that they thought were worth saving.
So..... the daily market volume has been anemic in the extreme 'cuz the big money is standing by waiting to see what happens. The quick money has been buying and selling and the dumb money has been buying, both together driving the market up a wall of worry and burying the shorts on low volume squeezes. As posted below, I'm exremely cautious and I've got a coupla three years profit to protect. But the recent runnup is a trend... but it's a mature trend that has risen without much of a break or consolidation, and it's approaching resistance. So, do I chase the market after it's already made it's move, or do I sit out the rest of the move and hope the rest of the move is measured in days, not years? Trends persist far longer than is reasonable or expected... and the market works to pull in all the innocents and suckers so the smart guys can load them up and then pull the rug out from under them.... What to do?

I used to think I was indecisive, but now I'm not so sure....

Tomorrow I might put a little more money back to work in the good funds, not much mind you. No more money than I can get out in a day or three if I tick the top.... or I might not cuz it's late in the rally and there will be a better time to buy.. I'll let you know.
http://bigpicture.typepad.com/comments/ ... check.html
http://bigpicture.typepad.com/comments/ ... trend.html
UPDATE;
I've gone from 7% stocks to 30% stocks this afternoon. We'll see....