---
Charts and Table Zup... The table's got issues but I'll fix it later....
CLICKIT!!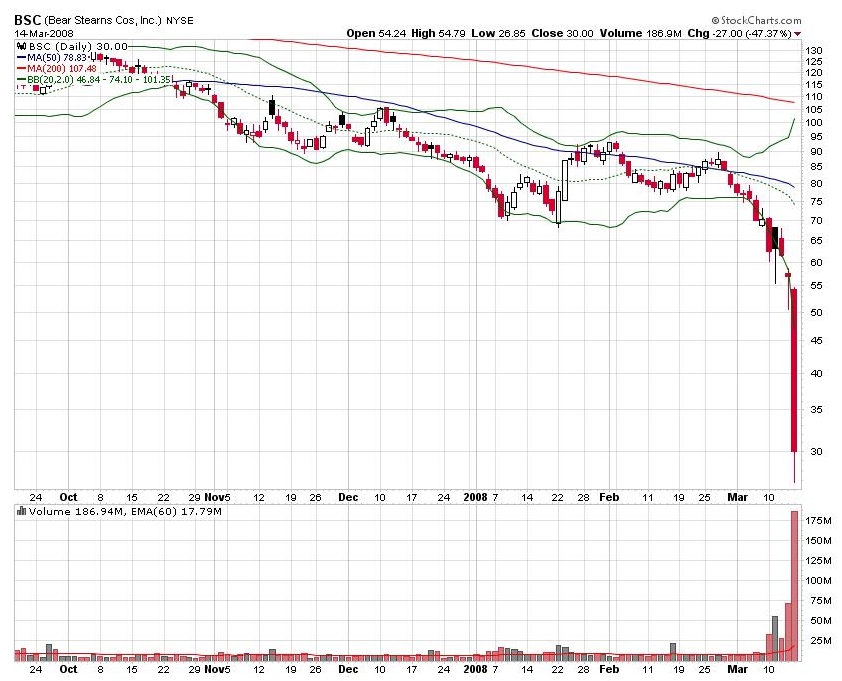 Bear Stearns. I owned some in an IRA account last year at around $150 a share. I bought it cheaper. It traded down to $30 Friday and BSC was sold to JP Morgan this weekend for about $2 a share. That's one seventy fifth what it was worth 10 months ago and one fifteenth what it was worth Friday. It's not a sale, it's a liquidation and some kind of under the table guarantee of debt. Gonna be a bloody market on Monday....BSC loaned a huge amount of their and other peoples money to heavily leveraged funds who've gone belly up. The question is who and how many Ibanks, funds or banks are going down with them....
The non government bonds in the pension funds will probably get hammmered at least temporarily. The stocks will crater. By now you will know what you should have done.
I'm;
75% GIC Met Life
16% going to 10% in RERFX, I was in the offshore fund as a weak dollar play. Offshore markets collapsing this evening. It sounded like a good idea at the time and was in theory. But it wasn't much at risk, I pulled some out last week, and I'm looking for the all clear to go back in at some point. That points way way closer than it was Friday....
I'm tellin' ya what I'm doin' but I'm too busy and it is moving too fast for me to find the time to tell you why. So it goes. Too many hours trying to get the job done to tell the story. Soon....
3/18/08
CLICKIT!!!!!



TREMENDOUS UPWARD MOVEMENT, EXPLODING UP, WAHOOO!!!!

That gets us up to where we were a week ago....