---
The majority of men meet with failure because of their lack of persistence in creating new plans to take the place of those which fail.
--Napoleon Hill
UPDATED 9/17
Chartz and Table Zup on my site.
http://www.sfgate.com/cgi-bin/article.c ... mp;sc=1000
http://www.sfgate.com/cgi-bin/article.c ... 12T0T0.DTL
http://www.washingtonpost.com/wp-dyn/co ... 02638.html
http://www.msnbc.msn.com/id/26695078/
http://www.popeater.com/television/arti ... 1200555738
http://www.bloomberg.com/apps/news?pid= ... refer=home
SUNDAY NIGHT: GOIN'DOWN IN FLAMES? GIC...THE PLACE TO BE...


CLICKIT!!!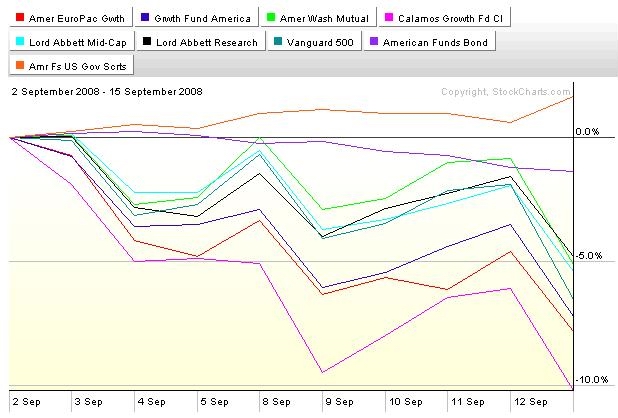 Not a good two weeks... not convinced it's getting any better...

UPDATE 9/17 courtesy of STOCKCHARTS.COM
CLICKIT!!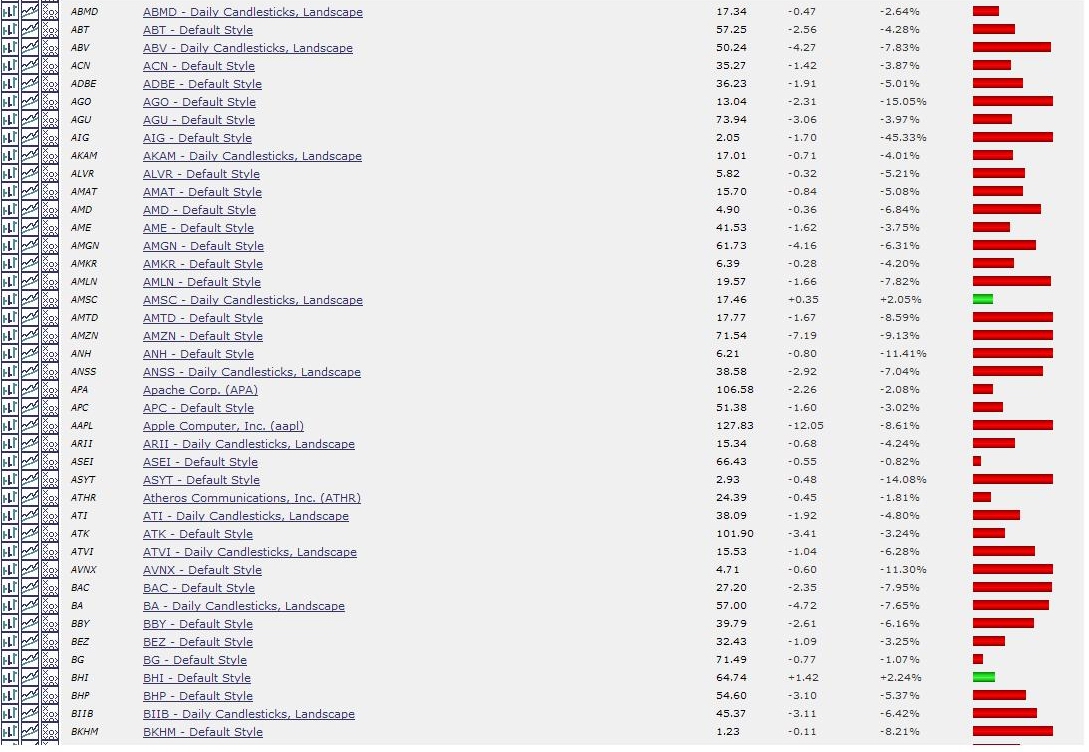 DEFINITELY NOT GOOD!!!!!!!

CLICKIT!



HOLY SHIT...

CLICKIT!!

IN FUCKING CREDIBLE.....

The losses YTD and today are incredible.

Being all cash puts me at arms length. It's still an emotional experience. A lot of peoples' work and savings have been vaporized.

Thoughtless risks are destructive, of course, but perhaps even more wasteful is thoughtless caution, which prompts inaction and promotes failure to seize opportunity.
-- Gary Ryan Blair

YOU CAN'T MAKE MONEY IN TODAY'S MARKETS. THE TIME TO MAKE MONEY WAS OVER THREE OF THE LAST FOUR YEARS. NOW IT'S TIME TO WORK ON KEEPING WHAT YOU MADE.

Don't be afraid of missing opportunities. Behind every failure is an opportunity somebody wishes they had missed.
Lily Tomlin

"When the plane is going down and the oxygen masks have dropped and parts of the plane are peeling off as you plummet toward the earth, that's not the time to pull out the little card in the seat in front of you and say, 'Gee, where are the emergency exits?' Everybody should have an emergency plan. The time to make these decisions is not when people are running around with their hair on fire."
Barry Ritholtz

NO ONE EVER WENT BROKE TAKING PROFITS.

IT'S NEVER TOO LATE TO SELL.

YOUR FIRST SALE ON THE WAY DOWN IS YOUR BEST SALE.

IF TODAY'S SALE WAS A MISTAKE, BUY IT BACK TOMORROW.

A SALE IS AN INSURANCE POLICY AGAINST LOSS.

This emergency was decades in the making and 12 months from the first wisps of smoke to full blown firestorm. There was time to escape.

Nothing is safer or more effective than cash in a poor market.
Reverend Shark

There is nothing that will benefit your portfolio more than avoiding losses when the market is acting poorly. If you can keep from incurring losses in your portfolio as the market falls, you avoid the very unproductive task of recouping losses once the market is more favorable.
James "Reverend Shark" DePorre

"The art of investment is the art of selling. Buying is a lesser skill and holding requires no skill at all."
-- Harry Schultz

Life teaches hard lessons. This is one.

When the time comes to buy these stinking piles of crap, AND THERE WILL BE A TIME, they'll be cheap and I'll have cash.

THIS TOO SHALL PASS.

http://bigpicture.typepad.com/comments/ ... umber.html