What everybody wants is to be given is the key to always winning with minimal effort. What they get is....
---
Charts and tables up.
At the end of last week I went from 90% cash to 60% cash. The rapid trading rules locked me out of my preferred funds for another week. But there still was a way for me to get back in the market with effective exposure to the current upside movement.
Here's how it's done....(CLICK IT)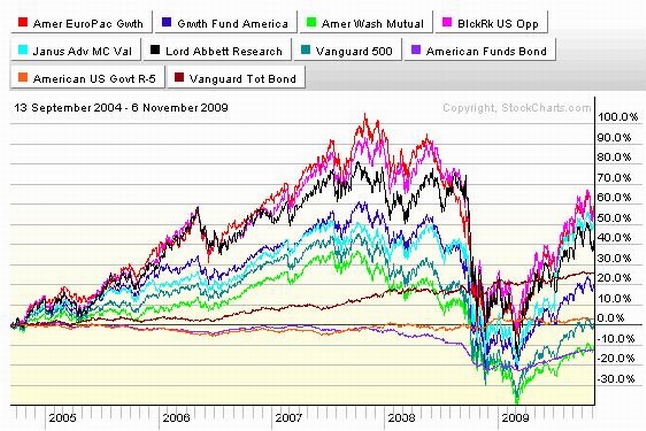 Note that Europacific and LA research have been smokin' hot. I've been big but not exclusive there. Risk and all that. American Growth has been hot but has not been stellar lately. So I've lightened up there recently. Vanguard has lagged overall but has heated up recently. I've not been there because there have been better places to be. So both funds were available for me to invest in when we got the Fed induced updraft last week. So I put 1/3 of my cash into the those funds.
Check out what's been happening this year...(CLICK IT)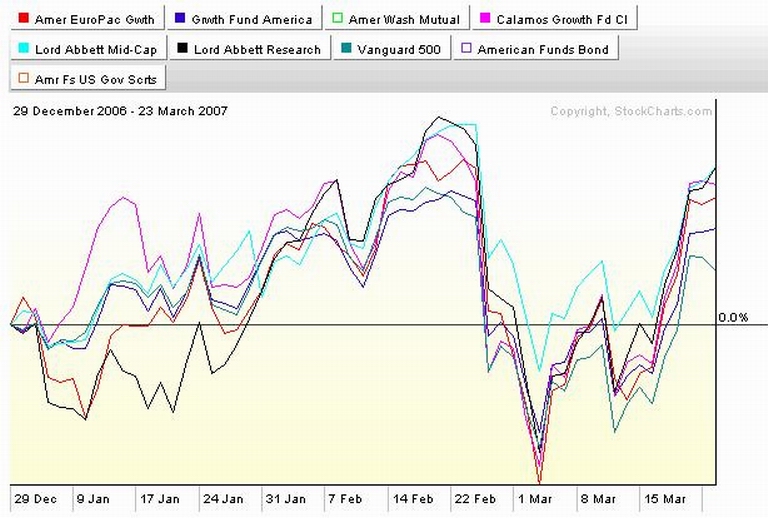 We had a whoosh down the last week of February. Was it going to be as big as last year's whoosh? We don't know that yet. Soo... I prepared for the possibility. I went to cash with the ability to immediately get back into the market if it was a false alarm. I'm equivocal about what kind of alarrm it was so I'm 1/3rd back in. Iran, housing, interest rates, credit, White House under siege, etc on the downside. World growth being a runaway locomotive, new technologies, new data distribution paradigms on an industrial and investment level, revolutionary changes in media and politics, on the upside. Whatcha gonna do?
Stay tooned....