Death, Despair, Destruction, Damnation, Disintegration, Defenestration, Desolation, Disintermediation, Disembarkation, and a whole lotta REEEALY
BAD STUFF
. Now What???? Well..... actually, I have a plan.....
---
Chartz and tablez up. Gotta full plate doing family stuff this weekend. But I got a head full of stuff that needs to see the light of the internet. The markets got CRUSHED this week and it looks like it's gaining steam on the way down. Now what?
Well......I'm fairly sanguine about the whole thing. It's onna counta 'cuz I've seen it before and I've got a plan and I'm ready to act. Here's what I got started on midweek of last week and here's what I'm agonna do on Monday...
Check out the chart....
CLICKONNIT...
What we got here is a chart of the last year and a half with the last two seasonal Spring Hiccups elipsed. The '06 one was 10% and two and a half months long and I got in and out in a timely manner and I did well for the year. The '07 one was about three weeks long and I got out late and got back in late and it cost me half the year's gains.
Now we have a Summer '07 thing goin'. Is it a hiccup or a blowup? If it's a hiccup, it might be too late to get out and getting out will cost me performance. If it is a blowup, it'll be a long way down and
IT'S TIME TO GO
!! I won't know which it really is until after it's over. So I gotta decide how I'm gonna treat it.
Check out the charts below...
CLICKONEM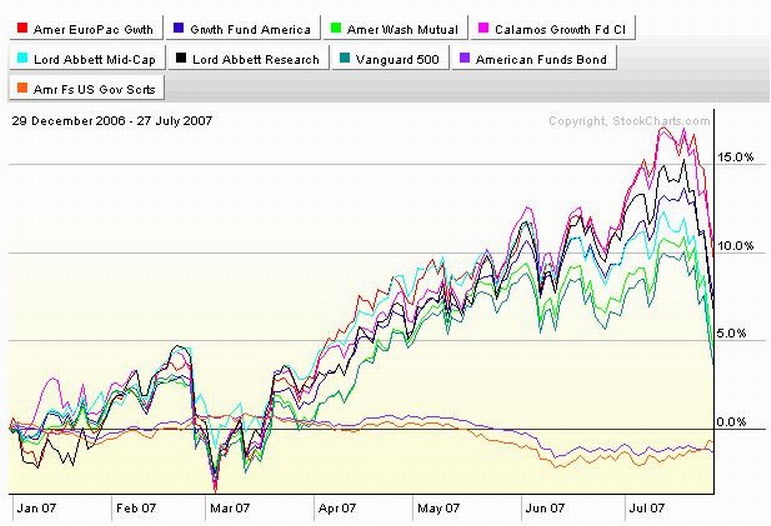 First off, for all the hue and cry in the media, the first chart sez that we're down 5%. The second chart sez we've still got half the progress we made this year in hand. But it also sez we've got a breakdown/rollover and the direction is DOWN. If Monday morning is a hard bounce off the bottom and we don't look back, that's one thing. But I trade stocks and I acquire a lot of input and what I've read makes me nervous. This one feels different. And if this is the start of a downtrend and we continue the downtrend with a few dead cat/oversold bounces along the way to where we COULD go, the right thing to do is SELL and SELL BIG and SELL
NOW
. If it's a mistake, I'll buy it all back and it'll cost me some of the profit I made/coulda made.
Read all the stuff I've written below to understand what and why I'm thinkin'. And when you've done that, realize that the stock market anticipates and sometime it anticipates what will happen and other times it anticipates what doesn't happen. So what we end up with is based on what other people think will happen. Whether news is good news or bad news is determined by the majority of investors and we gotta either guess or react. I'm reactin'. I'm aware of the stories and I read the charts. I've seen enough.
I've gone long and strong when it felt right or a little scary and it worked out. I've also anticipated a few disasters that never happened. Sooner or later, I'm gonna be right. Maybe this is the time I'm right. I'm gonna bail. I'm setting up a big sell order which will execute Monday after the market closes. Depending on what I learn as of lunch on Monday, I'll either let it roll or pull the plug onnit.
UPDATE

The market managed a decent bounce and I canceled the trade.

But the details and rational found below make sense to me as a way to deal with what i think is a possible inflection point in the market. So what you see below is is loaded and waiting. I'm thinking that tomorrow will be end of the month markup and I might pull the trigger on the trade or a junior version of it at the end of the day....
I moved some money around late last week and ended up with much of it in CVGRX and RERFX. That's a problem, but not a terrible one.
There's a ton of US money overseas. When things get hairy, rather than put more money across an ocean, investors'd rather hold cash here. Money coming back home drags down overseas stock prices. Business overseas is still gonna be good. But I own overseas stocks in RERFX, not businesses. I'm outa RERFX bigtime and I can't get back in for 30 days after I do.
It'll cost me 2% penalty to sell the recently bought CVGRX shares 5 days early. CVGRX is down almost 6% in the last 5 days. Safety costs money. Oh well. I think the odds say sell.
I can raise cash from the rest of the funds without triggering trading restrictions. Except from the Vanguard S&P 500 Fund. Those trading rules
SUCK
bigtime. We gotta ditch that fund and get an ETF. I'll have to think hard about putting money in VFINX again. It's about overowned big cap stocks now. I'm outa there.
If the market is bad at lunch Monday, the trade rolls and I'm big in cash as of that afternoon and I'll still be able to reinvest in 5 funds and three allocation models and I'll be locked out of one fund for 30 days. If I change my mind, my allocation will stay at what I show on my website.
We shall see.....And we did. I pulled the trade. But I very well may reinstitute it. Stay tooned.
To really get a grip on the situation though, ya gotta know how it came to be...
That'll be found on my website in the
Reforming A Pension Plan From The Outside
page. It's a work in progress. Between there and the COFGBLOG, I'll be covering the why and my strategy as to how to deal with it.
This may be the inflection point we all knew was on the way. Or not. Nuclear meltdown or Business As Usual. The market will tell us. Again, stay tooned....