---
"However beautiful the strategy, you should occasionally look at the results."
--Sir Winston Churchill

401A CHARTZ AND TABLE ZUP ON MY WEBSITE!
UPDATED 9/23.....
http://bigpicture.typepad.com/comments/ ... ns-sh.html
http://bigpicture.typepad.com/comments/ ... ack-o.html
http://bigpicture.typepad.com/comments/ ... -exem.html
Excerpted from the previous link...

The losses incurred by Bear Stearns and other large broker-dealers were not caused by "rumors" or a "crisis of confidence," but rather by inadequate net capital and the lack of constraints on the incurring of debt.

--Lee Pickard, former director, SEC trading and markets division.

>

Is Financial Innovation just another word for excessive and reckless leverage?

Apparently so.

As we learn this morning via Julie Satow of the NY Sun, special exemptions from the SEC are in large part responsible for the huge build up in financial sector leverage over the past 4 years -- as well as the massive current unwind

Satow interviews the above quoted former SEC director, and he spits out the blunt truth: The current excess leverage now unwinding was the result of a purposeful SEC exemption given to five firms.

You read that right -- the events of the past year are not a mere accident, but are the results of a conscious and willful SEC decision to allow these firms to legally violate existing net capital rules that, in the past 30 years, had limited broker dealers debt-to-net capital ratio to 12-to-1.

Instead, the 2004 exemption -- given only to 5 firms -- allowed them to lever up 30 and even 40 to 1.

Who were the five that received this special exemption? You won't be surprised to learn that they were Goldman, Merrill, Lehman, Bear Stearns, and Morgan Stanley.

As Mr. Pickard points out that "The proof is in the pudding — three of the five broker-dealers have blown up."
ROUND TRIP.!!! CLICKIT!!!


THIS IS WHAT "THE BIGGEST TWO DAY GAIN SINCE 1929" LOOKS LIKE IF YOU ADD IN THE OTHER 3 DAYS OF THIS WEEK....



THIS IS WHAT IT LOOKS LIKE IF YOU LOOK AT THE REST OF THE YEAR...
I DON'T FEEL LIKE I MADE A MISTAKE BEING IN CASH FOR MUCH OF THIS YEAR...INCLUDING THIS WEEK.

9/21
http://www.sfgate.com/cgi-bin/article.c ... 131A52.DTL
http://www.nypost.com/seven/09212008/bu ... 130110.htm
http://money.cnn.com/2008/09/19/news/ec ... 2008091915
http://www.politico.com/news/stories/0908/13690.html
The Bailout Plan may give a hand to foreign banks.... Holy Shit!!!!
http://www.allposters.com/-sp/George-W- ... 46826_.htm
http://bigpicture.typepad.com/comments/ ... using.html

Google "Mauldin" and "dead men walking"

Read the article in light of it being written Aug 25th, a month ago.
I'm not happy.
In his "Limping But not Dead Men Walking Crowd", among others he has Morgan Stanley,Merrill Lynch, AIG, Prudential, and Met Life.
Since then, Morgan Stanley has petitioned to become a bank holding company so that they can get bailout money from the Fed, Merrill Lynch sold itself rather than go down in flames, and AIG has been seized by the government.
I've got my money in the 401a in "cash", which is the Met Life GIC (Guaranteed Investment Contract). "Guaranteed" as in Met Life promises to pay off, even if they go bankrupt and don't have any money... Make sense? It's "Cross my heart, PROMISED", not insured. Today, that sucks.
In the 80's, when things were REALLY bad also, I had my money in Franklin's Federal Money Market Fund. It held only federal securities and had an average maturity of under a week. THAT WAS SOLID.
The closest thing we have in the 401a is the American Funds US Government Securities. This is from Morningstar
http://quicktake.morningstar.com/FundNe ... mbol=RGVEX
here's an excerpt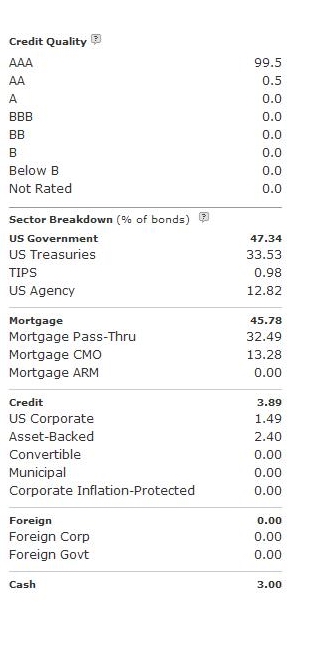 Forty five percent mortgages. This is not even a money market fund which IS government guaranteed now.
I sure hope this works out.....

Yeah, it's more work watching your money than not...



But, is it really too much trouble?
It only took four months to lose how much?


Got this in an email....
SUBJECT: REQUEST FOR URGENT BUSINESS RELATIONSHIP
DEAR AMERICAN:
I NEED TO ASK YOU TO SUPPORT AN URGENT SECRET BUSINESS RELATIONSHIP WITH A TRANSFER OF FUNDS OF GREAT MAGNITUDE.
I AM MINISTRY OF THE TREASURY OF THE REPUBLIC OF AMERICA. MY COUNTRY HAS HAD CRISIS THAT HAS CAUSED THE NEED FOR LARGE TRANSFER OF FUNDS OF 800 BILLION DOLLARS US. IF YOU WOULD ASSIST ME IN THIS TRANSFER, IT WOULD BE MOST PROFITABLE TO YOU.
I AM WORKING WITH MR. PHIL GRAM, LOBBYIST FOR UBS, WHO WILL BE MY REPLACEMENT AS MINISTRY OF THE TREASURY IN JANUARY. AS A SENATOR, YOU MAY KNOW HIM AS THE LEADER OF THE AMERICAN BANKING DEREGULATION MOVEMENT IN THE 1990S. THIS TRANSACTIN IS 100% SAFE.
THIS IS A MATTER OF GREAT URGENCY. WE NEED A BLANK CHECK. WE NEED THE FUNDS AS QUICKLY AS POSSIBLE. WE CANNOT DIRECTLY TRANSFER THESE FUNDS IN THE NAMES OF OUR CLOSE FRIENDS BECAUSE WE ARE CONSTANTLY UNDER SURVEILLANCE. MY FAMILY LAWYER ADVISED ME THAT I SHOULD LOOK FOR A RELIABLE AND TRUSTWORTHY PERSON WHO WILL ACT AS A NEXT OF KIN SO THE FUNDS CAN BE TRANSFERRED.
PLEASE REPLY WITH ALL OF YOUR BANK ACCOUNT, IRA AND COLLEGE FUND ACCOUNT NUMBERS AND THOSE OF YOUR CHILDREN AND GRANDCHILDREN TO
WALLSTREETBAILOUT@TREASURY.GOV
SO THAT WE MAY TRANSFER YOUR COMMISSION FOR THIS TRANSACTION. AFTER I RECEIVE THAT INFORMATION, I WILL RESPOND WITH DETAILED INFORMATION ABOUT SAFEGUARDS THAT WILL BE USED TO PROTECT THE FUNDS.
YOURS FAITHFULLY MINISTER OF TREASURY PAULSON